Customer 360 is a trusted, fresh, integrated dataset, containing all the information
about a particular customer, accessible to authorized data consumers.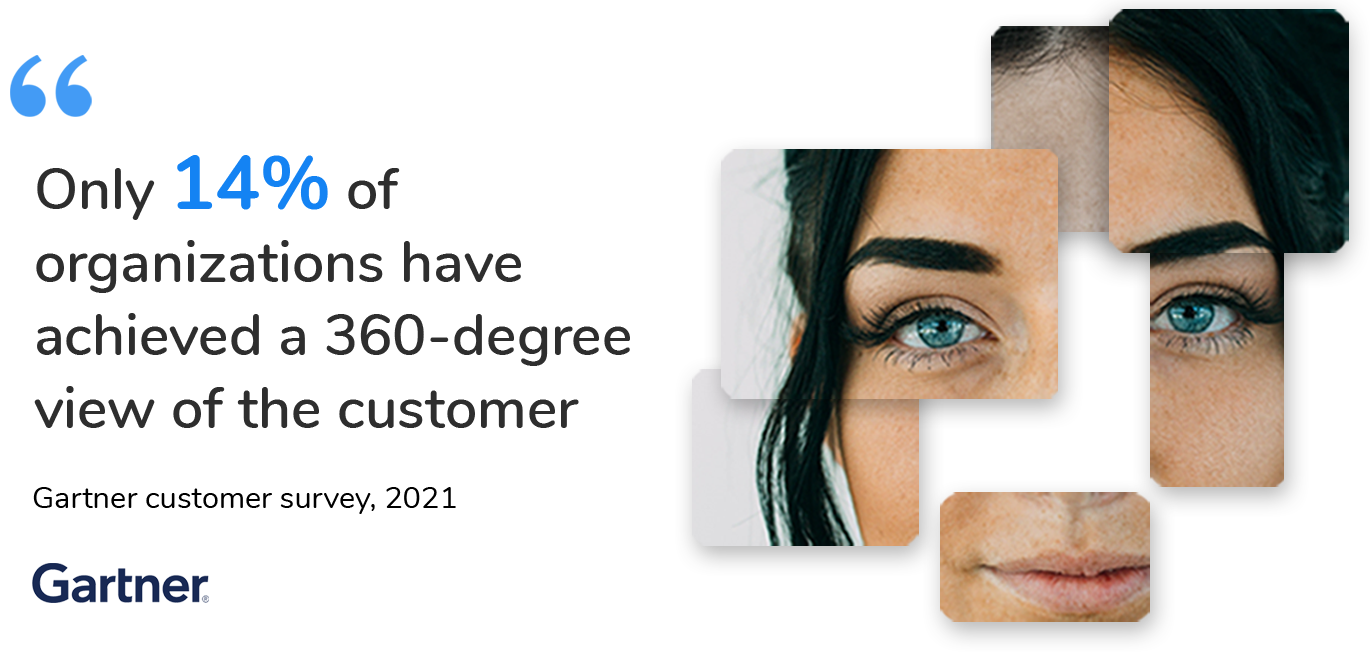 INTRO
The Customer 360 Dilemma
Enterprises want to use integrated customer data to determine customer engagement strategies, optimize online journeys, personalize communications, improve customer experience, and extend the most appropriate offers in real time.
However, despite the massive investments of organizations in Customer 360 projects and solutions, most initiatives have failed to deliver on the promise of the single customer view. Customer Relationship Management (CRM), Master Data Management (MDM), Customer Data Platform (CDP), data lakes, and home-grown solutions have all fallen short.
In this paper we'll explain why traditional solutions fail, and present a new, pragmatic methodology, based on the "data as a product" principle. A data product approach quickly completes your Customer 360 initiative by leveraging existing customer data investments.
CHAPTER 01
What is Customer 360?
Customer 360 refers to a trusted, fresh, and integrated dataset, containing all the information important to a company about its customers – which is instantly accessible to authorized data consumers.
From a technical perspective, Customer 360 delivers a single, real-time, trusted view of a customer's master data (name, address, phone, email, etc.), as well as all relevant interaction data (emails, chats, website interactions, phone conversations), and transaction data (orders, products, invoices, payments, and more).
Origins
Customer 360 is the latest incarnation of Customer Data Management (or CDM), which was conceived in the 1980s, predating Customer Data Integration (CDI) and Master Data Management (MDM).
Customer Relationship Management (CRM) emerged in the 1990s, with the goal of tracking and managing existing customer data more efficiently.
Enterprises started to adopt a Data Management Platform (DMP) in the 2000s, to expand their reach to wider audiences. For example, a DMP might ingest the data of potential customers (from data lakes) to deliver targeted ad campaigns to specific market segments.
Customer Data Platforms (CDPs) combined all these data systems in the 2010s, to manage marketing campaigns, customer segmentation, and data orchestration more effectively. This evolution was driven by a single aim: to collect, manage, and leverage customer data to its full potential.
Enterprises are now breaking down old domain-based silos – and combining customer master data, transaction data, and interaction data – in order to better understand customer behaviors, journeys, and touchpoints. Today, we call this "Customer 360".
CHAPTER 02
Customer 360 – Easier Said Than Done
Achieving a 360-degree view of the customer is a common objective of organizations seeking to optimize the customer experience (CX).
What is Customer 360, if not providing organizations with a competitive edge? By optimizing customer experience, it can increase customer loyalty and maximize spend.
In practice, this promise has proven difficult to realize.
According to the 2021 Gartner Cross-Functional Customer Data Survey, only 14% of business and IT executives said they'd actually achieved a 360-degree view of the customer – although more than 70% claimed that they're still working to get there.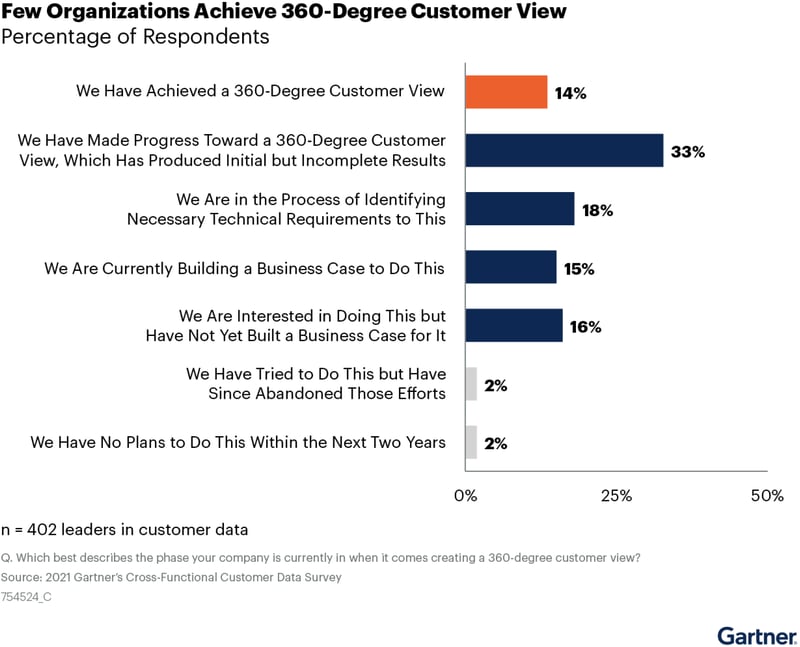 Gartner: While a third of all respondents claimed partial progressin achieving Customer 360, only 14% reported total success.
CHAPTER 03
Why Customer 360?
The overall thinking is that the better you understand your customer, the better the experience you'll be able to deliver, and the greater the likelihood your customers will be satisfied, and remain loyal. A unified customer view serves multiple business domains with strategic business value, including:
Customer care Reduced Average Handle Time (AHT), increased First Contact Resolution (FCR), and reduced churn, personalized and consistent customer experience, improving higher Net Promoter Score (NPS) and customer loyalty

Web and mobile self-service Personalized customer experience, including cross-sell and upsell recommendations

Field services Fewer redundant customer visits, and increased post-sale services

Customer analytics Real-time customer insights, to drive next-best-action recommendations, maximize revenues, reduce operational costs, and minimize customer churn

Marketing Improved customer segmentation accuracy, to target the right customer, with the right offer, at the right time

Sales Increased customer wallet share, with hyper-personalized campaigns and pricing

Product Enhanced product adoption and profitability

Data security Better compliance with data privacy regulations, to protect the brand, mimimize risk, and reduce costs.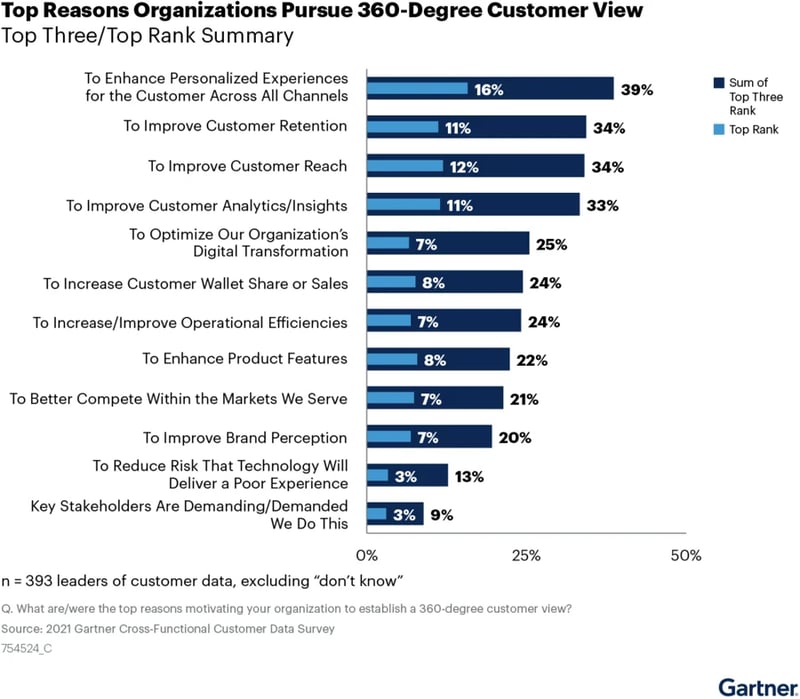 Gartner: The top reasons for Customer 360 arepersonalization, retention, reach, and analytics.
CHAPTER 04
Customer 360 by Industry
Customer-centric businesses need Customer 360 to stay on top of their game. Here are 3 prominent industry examples:
1. Financial services

Financial services providers, such as banks, insurance companies, credit unions, and stock brokerages, all strive to accurately identify, analyze, and predict customer demands as rapidly as possible.
With Customer 360, they can take advantage of the massive quantity of customer data they've managed to stockpile over time. This data would enable them to run hyper-personalized marketing campaigns and to optimize customer experience at every touchpoint (branch and online services, call centers, mobile applications, ATMs, and more).
2. Telecommunication services

Telecommunication service providers, such as wireline companies, cellular, cable TV and wireless providers, and media/entertainment distributors, need to offer newer, better, and more personalized services to remain relevant in a fiercely competitive landscape.
With Customer 360, they can tap into their vast customer data reserves to deliver hyper-personalized marketing campaigns and provide for a highly consistent and personalized cross-channel customer experience.
3. Healthcare services

Healthcare service providers, such as hospitals, PMOs, and pharmaceutical companies, need to act decisively on personalized customer insights generated by AI/ML models, and analytics engines.

Customer 360 collects fragmented data from all sources (CRM, EHR, marketing campaigns, patient portals, call centers, clinics, and customer surveys), to reveal a 360-degree patient view, and enriches it with operational intelligence to generate real-time insights. It also uncovers, and manages, the relationships between patients, and their households, services, and providers.
For all these industries,
Customer 360 collects, cleanses, enriches, and stores customer data from dispersed source systems
into a high-performance, high-scale operational datastore. From there, fresh and reliable customer data can be delivered to any consuming application in real time, to drive "next-best-actions", for each and every customer, across all channels.
CHAPTER 05
Top 8 Customer 360 Challenges
Although achieving a true 360-degree customer view has its challenges, 7 out of 10 enterprises are moving full steam ahead.
Here are the top 8 challenges in achieving a Customer 360 view:
Definition consensus
More often than not, different domains have different responses to "What is Customer 360?". For example, the marketing team may focus on customer's behavior and preferences, while the service team may look for customer's interactions, open cases, sentiment, and propensity to churn. According to Gartner, nearly half of the respondents to their 2021 survey don't agree on what it means to have a 360-degree view of the customer.


Gartner: Of those achieving Customer 360, data quality, definition

consensus, and cross-functional governance are the top requirements.




Quality assurance
An ongoing effort is required for

continuous data integration, extraction, unification, and preparation – compounded by ever-changing IT landscapes, and data quality requirements.
Data integration
Customer data is hard to get at, and use. Not only is it fragmented, inconsistent, and often duplicated, it's also stored across multiple,

siloed systems

– in different formats, technologies, and terminologies.
Data freshness
Since the data must be extracted from many different sources, it's hard to keep the Customer 360 view fresh and up to date.
Scale and speed
Delivering trusted customer data in real time – to internal users and to the customer via self-service – requires high scale and speed of data integration and delivery, which is a huge challenge in organizations with high data fragmentation.
IT resources
IT commonly lacks the resources and tools needed to handle the explosive growth in data, applications, and APIs. Pervasive, company-wide projects, like Customer 360, often require integration expertise, which many enterprises lack.
Privacy compliance
Emerging local and international privacy regulations make it difficult to keep up and comply with the new regulations while serving the Customer 360 view to different users.
Confusion about tools and technologies
The many different tools and technologies available for collecting, organizing, and analyzing customer data often have overlapping capabilities. These include

customer data platforms vs customer data hubs, and more.
CHAPTER 06
The Foundation for Achieving Customer 360
6 fundamental capabilities to achieving a 360-degree customer view
Real-time data integration
Integrate and unify all customer interactions, transactions, and master data, from any number of underlying data sources, on premises or in the cloud, in real time.

Golden record
Match, and normalize customer data, from all the underlying systems, into a single source of customer truth.

Customer data quality
Define and enforce data quality policies for each use case, via data processing, transformation, cleansing, and deduplication.

Data privacy compliance
Enforce data privacy policies and procedures within an adaptive framework by implementing consent management, data masking, data tokenization, and DSAR management – at the customer level – for maximum customer data protection.

Real-time customer 360 accessibility
Make the single view of the customer data instantly accessible to authorized data consumers via governed data services.

Federated control
Enable domain-based Customer 360, in order to provision the relevant customer 360 view per the needs of each domain, e.g., marketing, customer care, sales, product.
CHAPTER 07
Why do traditional Customer 360 approaches fail?
The following table summarizes the major principles behind common solution, and their shortcomings in delivering a 360-degree view of the customer in an enterprise.
Solution
Customer 360 Approach
Shortcomings

Customer Relationship Management (CRM)

Consolidates and analyzes sales, service, and marketing data that is managed in the CRM application

Integrates customer data in other systems via point-to-point connectors

Unifies customer master data using MDM

Employs data masking tools to secure sensitive customer data

CRM deals only with the data it owns and therefore, inherently provide a partial view of customer data

Limited integration of customer interaction and transaction data, which resides outside the core CRM, especially in legacy and 3rd party systems that lack a rich API set for customer data

Limited data governance support

A partial customer 360 view limits the business value of the CRM application, thereby limiting the user adoption of CRM across the enterprise, and its return on investment (ROI).

Master Data Management

Builds a single master record for each customer, while resolving data quality and duplication issues

Customer 360 view also requires customer transaction and interaction data. Master data provides only a partial view of the customer

Dependent on source system available to serve the customer 360 view

Customer Data Platform

(CDP)

Optimizes the timing and targeting of marketing campaigns

Typically unifies customer interaction data (web, email, chat, phone)

Marketing focus, without support for customer service, compliance, sales, and product data needs – essentially creating another customer data silo

Limited master data management support

No support for data governance (data quality and compliance)

Data Lake

Manages all customer data in a central location, in its raw, native format

Ingests and processes customer data from all relevant source systems into the lake via ETL/ELT tools

Makes use of affordable object storage and open formats, in response to expensive, proprietary "data warehouse" technology

Limited to offline customer analytics. Not applicable for operational use cases

Need for highly skilled data scientists and business analysts (capable of transforming the raw data into a usable form)

Data Virtualization

Creates a virtual data layer for applications and users to access enterprise data, regardless of its location, format, or protocol

Hides the complexities and whereabouts of underlying systems

Accesses data from where it resides, without any physical movement of the data

Limited support for complex data transformations

Not designed for operational workloads which require quick response time, since it is dependent on the data source availability and performance

Lack data governance and data catalog capabilities

Creates load on the systems of record
All the above solution approaches share an additional, strategic pitfall.
They are all based on a central approach which (1) requires reaching consensus from all business domains on the definition of the customer 360 view; and (2) are highly dependent on central data management teams to extract, integrate, prepare and deliver the customer data. These central teams are becoming a bottleneck in most enterprises and cannot deliver the time to market and agility required by the business.
CHAPTER 08
Achieving Customer 360 with Data Products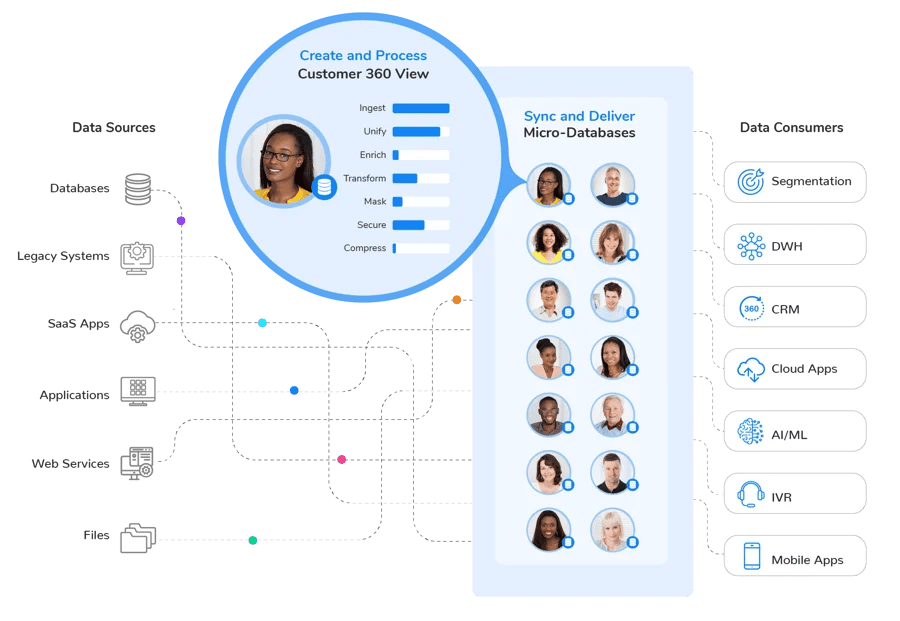 A data product approach to Customer 360 focuses on the different business needs of the customer-focused data consumers. It enables enterprises to federate control of Customer 360 to individual business domains.
Why is this important?
Because the replies to "What is Customer 360?", and the associated expectations, data quality, and data privacy requirements, differ from one business domain to another.
What is a Customer Data Product?
A customer data product makes a trusted customer dataset accessible to authorized data consumers in any method, in real time, and in offline. It encompasses everything necessary to generate value from the customer dataset. Examples include:
Delivering a complete Customer 360 dataset, including transactional, interactional, and master data, to a CRM application

Tokenizing sensitive customer data, for use by operational and analytical systems

Preparing a masked test dataset, and integrating it with a CI/CD pipeline, to support testing a wealth management system

Pipelining customer data into a central data warehouse, for AI/ML analysis

Applying a machine learning model on a real-time customer dataset to predict the customer's propensity to churn
Customer data is often fragmented across dozens of source systems. And what is Customer 360, if not providing enterprises with the ability to integrate, unify, and continuously sync customer datasets with their source systems?
Overcoming the Customer 360 Pitfalls with a Data Product Platform
A Data Product Platform continually provisions, transforms, and syncs customer data – via data products – to deliver a real-time, holistic view of the customer . It discovers, integrates, orchestrates, enriches, and governs all relevant customer data, and then stores it in individually encrypted Micro-Databases™ – one per customer.

Data Product Platform, combined with Micro-Database technology, systematically addresses the pitfalls of other approaches to Customer 360:
Data Product Platform
Micro-Database technology

Definition consensus: Cross-company agreement is no longer an issue because each domain can define its own Customer 360 requirements, while IT can build and publish a "generic" customer data product that can be inherited, customized, and subsequently reused, by the domains. Customer 360 can be centralized or completely decentralized, or anything in between.

Quality assurance: Data quality and compliance are applied to customer data on the fly. Data may be governed by the business domains – they own and understand their customer data the best – or by a central customer data team, per the company's operating model

Self-service provisioning: Authorized data consumers can access and share customer data products, quickly and easily, without involving central IT.

Leveraging existing investments: A data product approach leverages and completes existing customer 360 investments in CRM, MDM, CDP, Data Virtualization and data lakes

Quick time to value: The platform deploys in weeks, scales linearly, and adapts to change on the fly – with no downtime to the business.

Real time: Customer data is always fresh and accessible in milliseconds, regardless of the source system technologies, and availability

Enterprise grade: Data is integrated, processed, and delivered to any data consumer, at scale. The platform can manage billions of Micro-Databases concurrently.

Single source of truth: All customer data is unified, complete, clean, and compliant,

Situational awareness: Data is enriched on the fly, with operational insights, and by other data products.

Always available: Customer data is always available, regardless of the underlying systems, while minimizing the load on these systems

Unmatched security: Each Micro-Database is individually encrypted, eliminating the threat of a mass breach
CHAPTER 09
Summary
Although traditional solutions have failed to deliver a Customer 360 view – despite massive investments – IT leaders have not given up on enabling their business to excel and differentiate through a complete 360-degree view of their customers.
3 main challenges to reaching Customer 360
Definition consensus


A single, company-wide definition of Customer 360 is difficult to achieve because each business domain has its own expectations and requirements.

Data quality
Customer data is scattered across hundreds of systems, technologies, and formats, so keeping it unified, clean, and fresh is very hard.

Enterprise requirements
Large organizations need real-time performance, at scale, and cross-functional data governance.
4 inadequate approaches
Existing approaches are generally centralized, with a "one-size-fits-all" offering that doesn't sufficiently address the different business domain requirements of customer 360 use cases: quick time to value, agility, and flexibility.
CRM handles only the data it owns, primarily sales, marketing, and service data, while enterprises have many more customer data sources.


MDM is focused on master data, with no support for the customer interaction and transaction data needed for a 360-degree view.


CDP is a marketing tool, used for segmentation and campaign management. It doesn't support transactional and master data, or data governance.


Data lakes don't support operational use cases and require a high degree of technical expertise.

1 solution
Agile Customer 360 overcomes these challenges by:
Rendering Customer 360 definition consensus a non-issue

Having data quality, security and compliance defined, and enforced centrally or by business domains

Allowing for self-service data provisioning

Realizing a return on the company's investment in data integration


Case Study
Fortune 50 company achieves Customer 360 in
3 months with a data product approach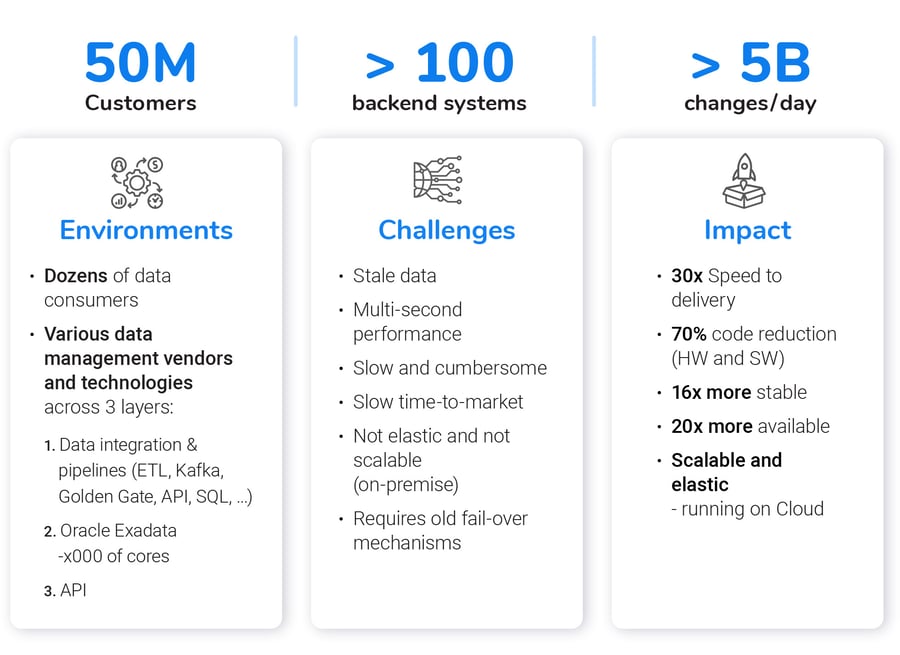 CHAPTER 10
Conclusion
What is Customer 360, if not the ability to access complete, clean, and compliant customer data in real time – to enhance customer experience, and increase company profitability.

Data products are an emerging data construct, adopted by leading, data-intensive enterprises. Their value comes from quick access to trusted data, combined with in-flight operational insights, to drive informed, timely decision-making.
Data products fuel both operational and analytical workloads, and may be deployed in a data mesh or data fabric architecture – on premises, in the cloud, or across hybrid environments.

Data teams should seek out a Data Product Platform that manages the entire lifecycle of data products, deploys them at enterprise scale, and supports multiple data management architectures, and operating models.