An innovative new approach addresses the limitations of both traditional ETL and ELT, and delivers trusted, clean, and complete data that can immediately be used to generate insights.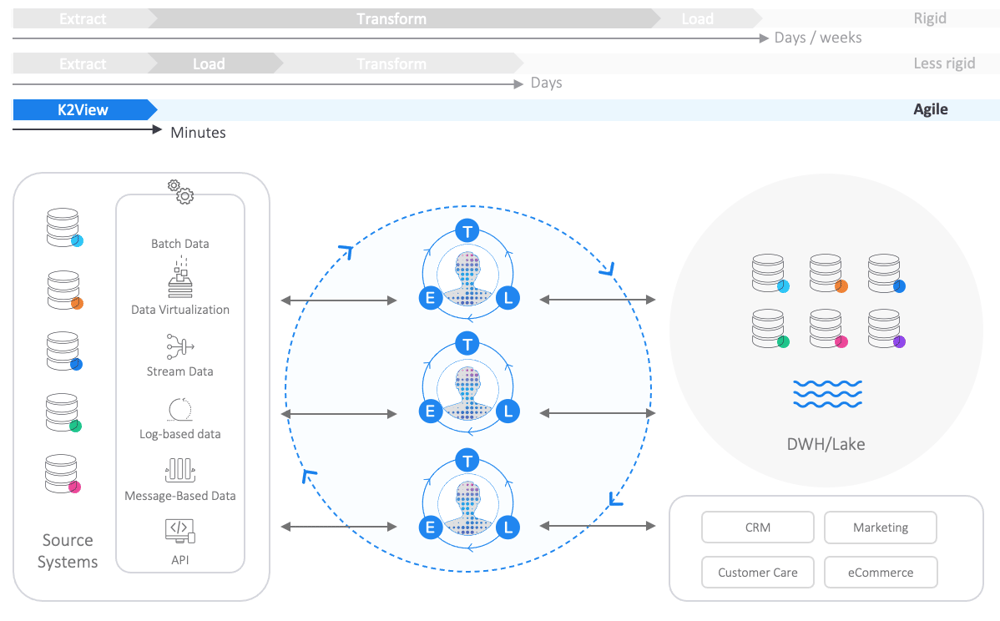 At the foundation of the eETL approach is a logical abstraction layer that captures all the attributes of any given business entity (such as a customer, product or order), from all source systems. Accordingly, data is collected, processed, and delivered per business entity (instance) as a complete, clean, and connected data asset.

In the extract phase, the data for a particular entity is collected from all source systems. In the transform phase, the data is cleansed, enriched, anonymized, and transformed – as an entity – according to predefined rules. In the load phase, the entity data is safely delivered to any big data store.
The Best of Both Worlds
eETL represents the best of both (ETL and ELT) worlds, because the data in the target store is:

Extracted, transformed, and loaded – from all sources, to any data store, at any scale – via any data integration method: messaging, CDC, streaming, virtualization, JDBC, and APIs
Always clean, fresh, and analytics-ready
Built, packaged and reused by data engineers, for invoking by business analysts and data scientists
Continuously enriched and connected, to support complex queries and avoid the need for running heavy processing table joins