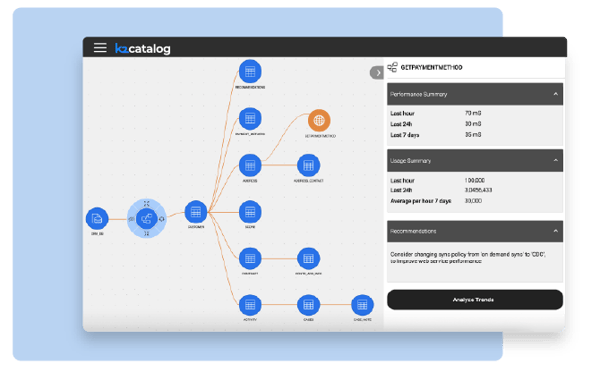 Auto-discover, classify, and activate your metadata
K2view Data Catalog keeps an always-current inventory of the organization's data assets, and visualizes the relationships between them – enabling data teams to easily find and understand data.
Data source crawlers scan underlying sources.

Automated data discovery registers databases, tables, and fields in the catalog.

Automated data classification for each data element.

Intuitive and beautiful visualization of your data assets and relationships.

Interoperable with 3rd-party enterprise data catalog tools.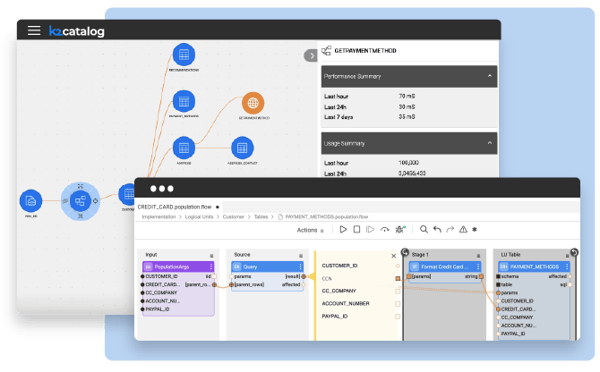 K2view Data Catalog serves as the backbone data registry for creating data products in a federated data mesh or centralized data fabric architecture.
accelerate data product creation
Data catalog-driven automation
K2view Data Catalog accelerates the implementation of data products by automating many the data product design and engineering activities, including:
Auto-generating your data product schema.

Auto-generating data product ingestion flows based on the data product schema.

Auto-applying data masking functions to protect PII data.

Applying relevant data quality functions based on the data classifications.

Auto-generating web service APIs to expose data ingested by a data product to authorized data consumers.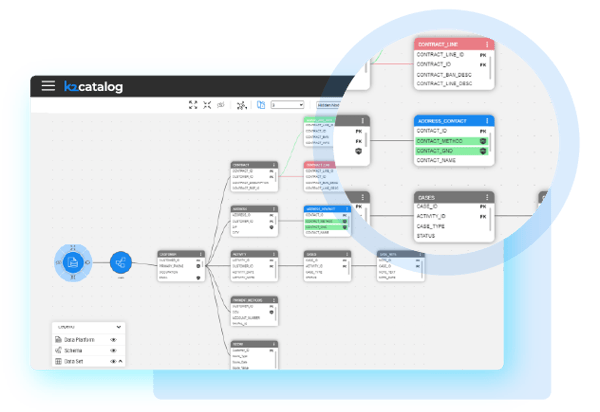 embrace change with speed
Automated change management
K2view Data Catalog identifies and alerts on schema drifts in your data sources. Moreover, it automatically propagates the changes in your data product implementation, enabling seamless change management.
Full version management of the data catalog, with schema drift visualization to highlight changes between versions.

Accept or reject auto-discovered changes into the catalog.

Roll back to prior versions.

Update the data product schema, ingestion flows, data governance functions, and web services – in minutes.
Key features and capabilities
Auto-discovery
Auto-discover your data assets, regardless of data source.
Auto-classification
Automatically classify your data assets to enable quick search and understandin.
Catalog versioning
Keep track of your changes with version management and rollback capabilities.
Passive and active metadata
Visualize both passive (design time) metadata and active (runtime) metadata.
Data product model automation
Generate the data product schema directly from your data catalog.
Automated data ingestion
Data ingestion flows are auto-generated based on the data product model.
Automated data governance
Achieve the required data quality and enforce data privacy based on metadata classification.
Graph database
Enable enterprise scale and flexibility with a modern, graph DB architecture.
Interoperability
Share K2view data catalog metadata with other 3rd-party enterprise data catalogs.