What do the analysts say?
Forrester defines data fabric as a platform for "orchestrating disparate data sources intelligently and securely in a self-service and automated manner... to deliver a unified, trusted, and comprehensive real-time view of customer and business data across the enterprise."
According to a December 2020 Gartner research note, entitled "Emerging Technologies: Data Fabric is the Future of Data Management", data fabric is an important emerging data management architecture that requires multiple technologies, including data integration, preparation, orchestration, and delivery, a data catalog for metadata management, and graphical modeling capabilities – because they connect between components and enable designs to evolve over time.
At its core, the K2View Data Fabric includes data connectivity and integration, a metadata-driven data catalog, and intuitive graphical modeling and orchestration. Additional capabilities include data governance, data virtualization, and microservice automation – which can all be readily integrated with an enterprise's existing data technologies.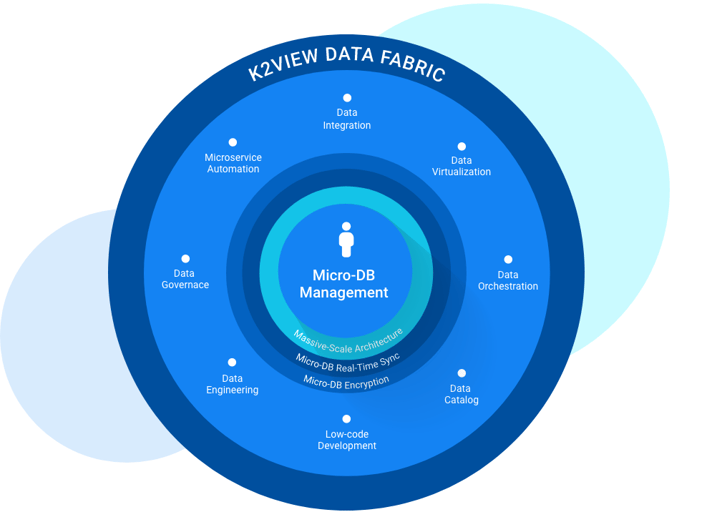 Operational data fabric, you say?
With the ability to deliver a trusted, holistic, secure, and real-time view of any business entity – for example: customer, location, product, order, credit card – K2View is uniquely positioned as the market's only operational data fabric.
Data-driven enterprises like AT&T, Global Payments, DirecTV, Farm Credit, Hertz, and Verizon use K2View's operational data fabric to drive innovation, and agility, in personalizing customer experiences, and streamlining operations.
How do we do it?
The operational data fabric is designed and built, from the ground up, to support real-time, data-driven operations.
K2View Data Fabric organizes fragmented data, from all kinds of scattered systems, according to Digital Entity™ data schemas – one schema per business entity – customer, location, party, device, or anything else that's important to the operations.
The digital entity unifies everything a company knows about the business entity – including all interactions, transactions and master data – regardless of the underlying source systems, their technologies, or data formats.
K2View Data Fabric ingests, transforms, enriches, orchestrates, and secures data into a Micro-Database™ – one micro-DB is managed for every instance of a business entity. Our data fabric can scale to manage hundreds of millions of secured micro-DBs at the same time, and was architected with real-time speed in mind, to support every kind of operational use case, where every millisecond counts.
Enterprises leverage an operational data fabric to inject agility and innovation into their business. Learn how, by reading our customer case studies.